JONATHAN HEIMAN, DDS – Cosmetic and General Dentist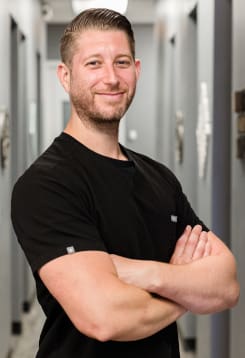 Honored to now be a leading Austin dentist, Dr. Jonathan Heiman is originally a native New Yorker. He grew up on Long Island and began his education at Stonybrook University. It was there that he received a bachelors degree with a focus in the sciences as well as psychology. After receiving his undergraduate degree, he embarked on his journey into dentistry at NYU College of Dentistry. Following graduation from NYU, he received an additional year of training at Queens Hospital Center in NYC. This one year post-graduate residency had a focus on all aspects of dentistry, including endodontics and oral surgery. After completion of his training, Dr. Heiman moved to Texas and embarked on his journey as an Austin dentist in a private practice.
Dr. Heiman practices all aspects of general and cosmetic dentistry. During dental school, he worked at a drug rehab facility to help restore oral health for patients. This experience allowed him to care for under-served patients. As he worked to restore the dental health of substance abuse patients, he gained invaluable experience in a variety of cases. In addition, many of these patients had severe dental anxiety. This exposure has helped him to develop patience and treatment methods to mitigate anxiety.
Austin Dental Patient Services
Dr. Heiman is a family dentist who enjoys caring for patients of all ages. Due to his past training, he has experience in all aspects of dental care. Accordingly, he is able to treat most of your needs in his Round Rock office. If you are in need of a simple filling or more complex procedures like implants, wisdom teeth extractions and root canals, Dr. Heiman can be your preferred Austin dentist.
Dr. Heiman believes in the importance of understanding the desires of each patient. Through his relationship with you, he will provide education so that you can achieve healthy oral habits at home. He is an Austin dentist that you can count on! Beyond a beautiful smile!
Personal Life
When he is not caring for patients, you will likely find him spending time with his family. Dr. Heiman and his wife, Michelle, are big foodies and love to bounce around Austin's food scene. Along with their son Zach, they like to explore Austin outdoors and take trips down to the beach as often as possible. Dr. Heiman also has a passion for exercising and sports. As a native New Yorker, you can catch him watching his favorite teams – the NY Knicks and NY Giants (sorry Cowboys fans!) He also loves music, which made Austin a no-brainer when he and Michelle decided to relocate after he completed his training!
Our Philosophy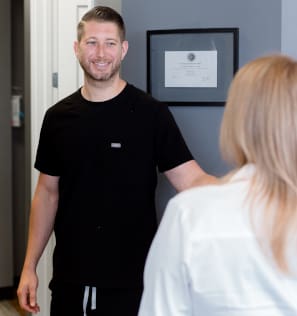 At Greenlawn Dental, our philosophy revolves around prioritizing your utmost comfort and satisfaction. With a knowledgeable and compassionate team, we are committed to delivering high-quality dental care with a personal touch, guiding you towards achieving optimal oral health. Through staying up-to-date with the latest techniques and technologies, we strive to provide painless treatments and deliver beautiful results. We aim to create a calm and relaxing atmosphere that is designed to alleviate any anxiety you may have. This ensures a soothing dental experience overall.
Our patient-centric approach is at the core of our values. We, therefore, tailor our services to meet your individual needs, from routine check-ups to complex restorative procedures. We hold transparency and open communication in high regard, offering detailed explanations and comprehensive treatment plans. Our friendly staff is dedicated to making your dental experience comfortable and enjoyable. We want to enable you to foster a lasting relationship with a dental care provider who genuinely cares about your well-being.
We invite you to experience the difference at Greenlawn Dental! Schedule an appointment today for exceptional care and the attainment of a healthy, beautiful smile.
Collaborative Dental Team
We know how difficult it can be for patients to make it to the dentist. Therefore, we place high importance on making your visit as stress-free as possible. We have an excellent team in place to ensure that you are comfortable at your appointment.
We value our patients and see you as part of our dental family. Our friendly team is there for you with every step of your dental process. We welcome any questions you may have regarding treatment with our Austin dentist. We want you to leave your dental visit satisfied and well-informed.
But our focus on your comfort extends well beyond the short time that you spend with us in the dental office. As your dental partner, we strive to support and maintain your long-term oral health. This involves understanding your full health history and gaining a sense of any lifestyle components that might impact your dental well-being.
Part of that well-being is heavily influenced by how happy you are with your smile and any desires you may have regarding your oral health. With open communication, we are able to gain an understanding of your needs as a dental patient. We use this insight to create a successful dental treatment plan with personalized attention and care.
Our Austin dentist, Dr. Heiman, will work with you to achieve true dental happiness and restore your confidence in your smile. Request an appointment or give us a call at (512) 872-2223.
Focus on Quality in Dental Care
Another major aspect of the philosophy at Greenlawn Dental involves a focus on quality in the dental care services that we provide. This strongly correlates with our mission to retain life-long patients.
We understand that to gain your trust, we must deliver reliable services. Quality dental care at our Austin dental office is supported by the following:
Experience
Your Austin dentist, Dr. Heiman, possesses a great deal of experience in a large variety of patient cases. We are able to pull from our in-depth familiarity with dentistry to fairly accurately predict problem areas and plan accordingly.
Based on this experience, we are able to implement a quality dental plan for each of our patients. Firstly, we begin with establishing a healthy oral foundation by addressing any immediate dental needs. From there, we are able to focus on preventative and restorative dental options to yield positive results.
At the same time, this past experience also affords Dr. Heiman an accurate sense of treatment limitations. Out of respect for our patients, we aim to honestly communicate any concerns we have. You can be certain that your dentist at Greenlawn Dental will be upfront in your treatment approach options.
It is also due to this past experience in dentistry that our dental team realizes the importance of maintaining the integrity of your natural teeth. Be assured that your dentist weighs this consideration when proposing your dental treatment plan. As a result, we aim to preserve and maintain your longstanding dental health.

Continuing Education and Technology
Dr. Heiman is up to date with continuing education to ensure that your treatment employs modern concepts as dental care evolves. As a result of continued training we are happy to offer various treatment options in the comfort of our North Austin dental office.
Dr. Heiman has advanced training in oral surgery through his post-graduate residency program at Queens Hospital Center in New York. He has also undergone training to treat full mouth reconstruction based on the concepts provided by some of the leading dentists in the industry such as Kois, Spear and Dawson. Dr. Heiman prides himself on his ability to provide predictable orthodontic results with Invisalign cosmetic dentistry treatment, which he has been providing for his patients since 2015. Since then, he has amassed enough orthodontic cases to achieve Invisalign Gold Plus status!
In addition to Dr. Heiman's training, Greenlawn Dental utilizes state of the art imaging in order to accurately diagnose your oral health. Our North Austin dental office is pleased to offer complimentary 3D imaging and digital smile scans with our iTero 3D digital scanner.
We employ iTero digital scanning to help us diagnose and monitor various dental conditions. Use of the scanner consequently allows malocclusion (traumatic bite), tooth wear, gum recession and more to be diagnosed. 
We also use CBCT to help diagnose dental issues that can not be seen on a typical 2D x-ray. A  dental CBCT is a 3D image of your jaw and teeth. 3D imaging allows us to obtain much more information regarding your oral health. As a result of this state of the art technology, we can better diagnose tooth fractures, bone loss, infections and oral cancer that may not be seen on a traditional x-ray.
Range of In-House Dental Services